Activities
As part of creating or editing profile, you need to define which devices are involved in each activity.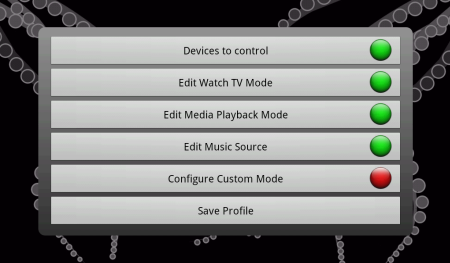 When an activity has been configured, the red light will turn to green. Above, the devices have been specified, but the activities have not. When all the modes you plan to use are green, touch "Save Profile".
Configure an Activity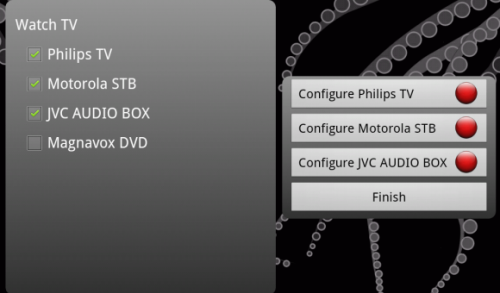 Touch the check boxes at left to indicate which devices are used in the Watch TV mode. Note that in this case three are checked. The DVD player is not checked because it is not needed in this mode. Then touch each device button in turn to set up the conditions for that device. You will be asked a few questions to help the app to know how devices are used in the activity. When all the lights are green, click finish.
Note: If you find you do not know the answers to the questions, please seek the help of a "tech savvy" friend.
Save Profile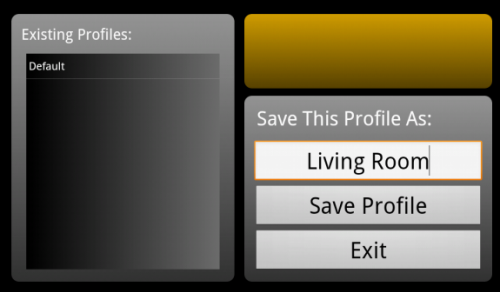 To save a profile you need to give it a name. Touch name the text box and the keyboard will appear. Type the name you want to use and touch done. Then touch Save Profile.
You will get this screen:
If you touch Yes, you will be prompted to enter a passcode. Any reasonable number of digits will work, but 4 digits should be enough for the purpose. If you touch No the profile will not be protected.
Hint: If you have small children in the house we advise protecting your profiles.
When you are done, Press Exit.
Your Touchsquid is ready to go.
Note: Errors in the setup will not harm the TouchSquid or the devices being controlled, but may result in incorrect behavior.