Favorites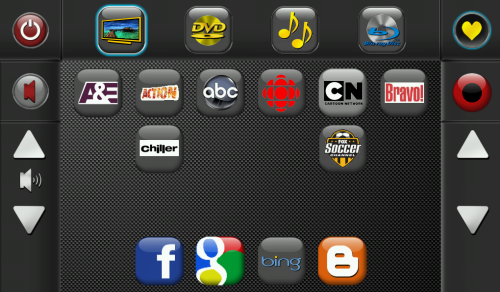 The Favorites screen is part of Watch TV mode. You can set up to 144 favorite channels and access them with a single touch. This works on both TV or Cable/Sat boxes. In favorites mode, the Channel up down buttons on the right changes favorites screens.
Favorites can be Channels, Websites, or command buttons. The bottom row above are all websites: Facebook, Google, Bing, and Blogger. When you select one of them, it will open in the built in web browser.
Adding a Favorite
To add a new favorite, or edit and existing favorite, touch and hold the favorite button you want to change until this screen appears. If there are no buttons, touch and hold a blank spot on the screen where you would like a button.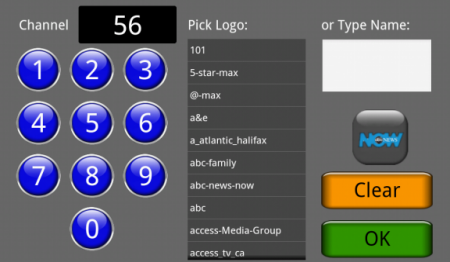 Channel
Set the channel number by using the numeric key pad.
Pick Logo
Pick a logo by touching the name. The logo will appear in the button at right. There is a long list of logos available, you can scroll the list with a swipe of your finger. There are several folders with logos. You can add your own in the USER folder.
Channel Name
If you cannot find a suitable logo, or prefer a simple text label then touch the text box in the upper right. The virtual keyboard will appear and you can type the name. A length of 3 to 4 letters is appropriate.
Clear
If you make a mistake, touch the Clear button and start over.
OK
Touch OK when you are ready.