Settings
Before you can control a group of devices, you must create a device profile.
You can create as many profiles as you wish, and give them meaningful names such as "Living Room" or "Sarah's TV".
The last profile used becomes the "Default Profile" and will be used each time you start the TouchSquid app, until you select a different one.
To create your first profile touch the Settings button on the startup screen:

Create New Profile
This is the screen with no devices yet defined. Touch "Add Device" to add you first device, usually the TV, Monitor or Projector which displays your video signals.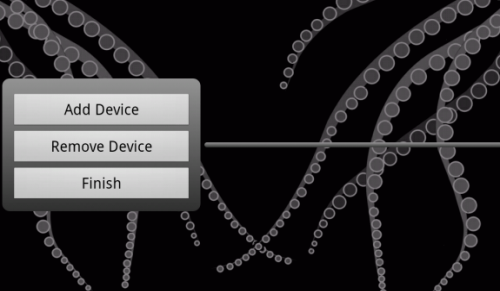 Remove Device
Delete a device already defined. Do this if you make a mistake or you are replacing a device with a different one.
Finish
Touch when you have completed your device list. This will take you to the main configuration screen.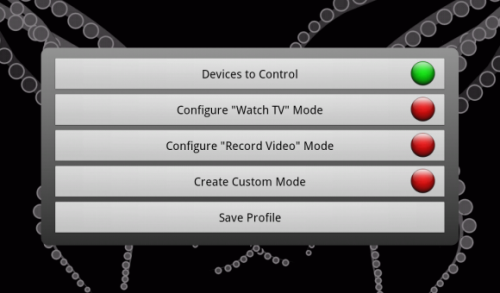 Edit Current Profile
Touch to change a device or activity within the current profile. You can save it with a different name to create a new profile.
Edit Existing Profile
Touch to load and edit a profile that you previously saved.
Change Language
Touch to choose a different language. The TouchSquid App works in English, French, Spanish and Simplified Chinese, but has been designed to make it easy to add other languages as needed.
Once you change languages, all text within the app will be displayed in the language chosen.