Watch Media
Media includes DVD, Blu-Ray, VCD and streaming media such as Apple TV.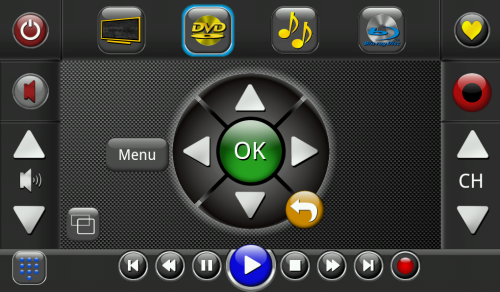 In Watch Media mode you typically have the controls which are familiar to most DVD / Blu-ray users. Most important is the big blue Play Button in the middle. Before attempting to play, make sure that there is a disk loaded in the player. Different combinations of buttons will appear depending on the device.

Eject Chapter- Rewind Pause Play Stop Forward Chapter+
Eject
Touch to open or close the Disc Drawer.
Chapter -/Chapter Back
Touch to jump back to the previous chapter of the movie.
Rewind/Reverse
Plays the video in reverse. Touching it again makes the speed faster on most units. Touch Play to resume normal playback.
Pause
Temporarily stops video playback.
Play
Starts the Disk playing.
Stop
Stops playback, so you can load another disk or go to another mode. If you change modes without stopping the playback, the disk may continue playing.
Forward/Fast Forward
Touch to increase playback speed and fast forward. Touch Play when you have gone far enough.
Chapter +/Chapter Forward
Jumps to the next chapter and resumes playback.
Menu
The effect will vary depending on your device. It will generally bring up a menu for setting language, subtitles, and special features. You can navigate with the central arrow keys and touch OK to make a selection.
Display
Depending on your equipment, toggles display modes on the TV from Normal/Stretched/Widescreen.